Starter Suggestions
Homemade Spinach Dip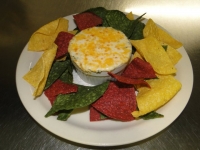 A combination of spinach, mixed cheese and savoury spices. Oven baked to perfection, our spinach dip is served with hand-cut, crispy tortilla chips
Thai Bites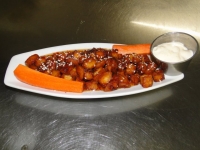 Bite-size pieces of chicken in our signature Thai sauce, served with carrot sticks and our homemade ranch dressing on the side.
Potato Skins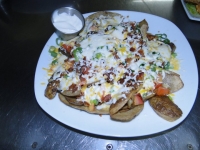 Potato peels topped with a mix of melted cheese, tomatoes, green onion and bacon bits. Served with sour cream on the side.
Onion Rings
Battered onion rings, served hot, golden and crisp.
Nachos Supreme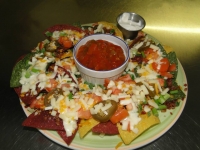 Crisp, hand-cut tortilla chips topped with cheese, jalapeño peppers, green onions, bacon bits and tomatoes. Served with a side of salsa and sour cream.
(Available Gluten Free)
Chicken Wings (6)
Deep fried chicken wings. Tossed in a Hot, Mild, Thai or Honey Garlic sauce.
Seafood Starters
Cheticamp Crab Dip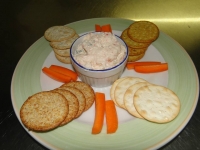 Fresh snow crab meat mixed with a few fishermen's secret ingredients. Served with an assortment of crackers and carrot sticks.
Bacon Wrapped Scallops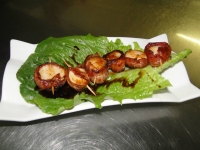 Six succulent scallops, hand wrapped in crisp bacon, perfectly browned and drizzled in our chef's homemade maple sauce.
Steamed Mussels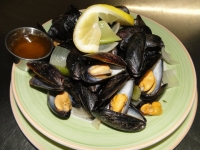 Fresh, local mussels steamed in white wine, celery and garlic butter. Served with melted butter and lemon wedge.
Hearty Seafood Chowder
Delicious, creamy and rich in seafood. Our chowder has scallops, haddock and lobster. Available by the bowl, or by the cup. Served with a homemade roll.
Soups
Baked French Onion Soup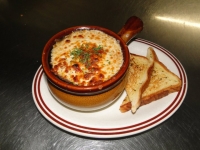 Our rich homemade onion broth is served hot, baked to perfection, topped with croutons and sizzling Mozzarella cheese. Served with garlic toast
Turkey Vegetable Soup
Our turkey-vegetable soup is made daily. Served hot, by the bowl or cup, with a homemade roll
Delicious Alternatives
Chicken Vegetable Wrap
A mix of oven-roasted onions, peppers, mushrooms, broccoli, Mozzarella cheese, sour cream and salsa carefully wrapped as you order. (Our wrap can be ordered with no chicken)
(Available Gluten Free)
8-oz Strip Loin Steak
Our 8-oz strip loin steak is hand-seasoned and charbroiled to your liking. Served with vegetables of the day and cole slaw.
Served with fries, potato of the day, rice choice of salad
Veggie Quesadilla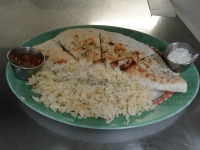 A zesty blend of tomatoes, green onions, mushrooms, peppers and cheese in a toasted tortilla. Served with salsa and sour cream on the side.
Served with fries, potato of the day, rice choice of salad
Add Chicken or Add Lobster (available Gluten Free)
Boardwalk Burger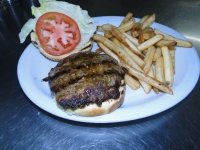 5-oz beef, fresh and juicy, charbroiled and served on an oven-toasted bun with lettuce and tomato. Add cheese, onions and bacon
Chicken Breast Sandwich
5-oz chicken breast charbroiled and served on a fresh Kaiser roll with lettuce, tomato, melted cheese and our signature chef's sauce
Chicken Stir Fry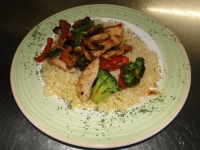 A fresh medley of vegetables, including peppers, green onions, broccoli and mushrooms mixed with diced chicken strips slowly sautéed with a few herbs and spices. Served over rice.
Salads
Spinach Salad
Fresh spinach tossed in our Homemade vinaigrette. Topped with mushrooms, boiled egg, smoky bacon, mozzarella cheese and toasted almonds. Add Chicken or Lobster
Harbour Medley Tossed Salad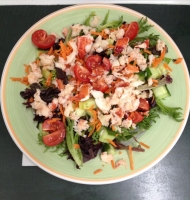 A healthy mix of lettuces and fresh vegetables served with your choice of homemade ranch, french or vinagrette dressing on the side. Add Chicken or Add lobster
Classic Caesar Salad
Crisp romaine lettuce, fresh croutons, bacons bits topped with parmesan cheese is what makes this salad irresistible Add Chicken or lobster
Pasta
Bayside Fettuccine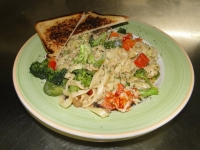 Shrimps, Lobster, Scallops and a medley of fresh vegetables gently sautéed in our creamy white seafood sauce topped with fresh Parmesan cheese. (Available gluten free with penne pasta)
Pasta Primavera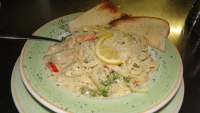 Fresh diced chicken and vegetables slowly sautéed in our homemade creamy sauce served over fettuccine noodles, topped with fresh Parmesan cheese. ~ Pasta dishes served with a slice of garlic bread ~ (Available gluten free with penne pasta)
Seafood Entrées
Acadian-Style Morue en Cabane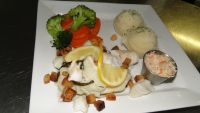 Fresh cod slowly cooked with chives and pork scraps. Served with fries, potato of the day, rice OR salad. Cole slaw included
Lobster Club
A traditional clubhouse 'upped a notch'… served with Lobster not Turkey… Served with fries, potato of the day, rice OR salad. Cole slaw included
Scallops Supreme
Eight succulent scallops gently sautéed to perfection. Served with vegetables, fries, potato of the day, rice OR salad. Cole slaw included
Surf & Turf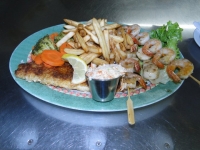 Our 8-oz strip loin steak is charbroiled to your liking. Served with vegetables and your choice of 3 shrimp skewers OR 6 Scallops. Served with fries, potato of the day, rice OR salad. Cole slaw included
Pan-Fried Haddock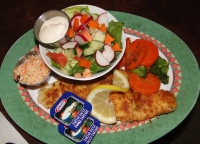 Fresh haddock fillet served with vegetables of the day. Served with fries, potato of the day, rice OR salad. Cole slaw included
Mushroom-topped Scallops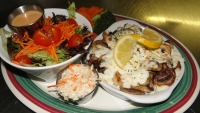 Six scallops smothered in garlic butter topped with fresh mushrooms and sizzling mozzarella cheese. Served with fries, potato of the day, rice OR salad. Cole slaw included
Dinners
Fishermen's "Best of Both" Dinner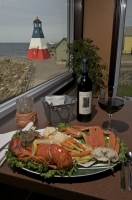 Get a taste of Lobster AND Crab at the same time. Both are served hot with choice of side, coleslaw, vegetables and melted butter. Includes dessert (Apple Garden Cake cake contains nuts) AND tea/coffee
Maritime Salmon Dinner
Fresh salmon fillet broiled and served with our own salmon sauce on the side. Served with vegetables and your choice of side. Includes dessert (Apple Garden Cake cake contains nuts) AND tea/coffee
Seafood Sensation Dinner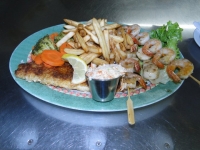 Pan-fried Haddock fillet, 6 sautéed scallops and 2 shrimp skewers. Served with vegetables and your choice of side. Includes dessert (Apple Garden Cake cake contains nuts) AND tea/coffee
Local Snow Crab Dinner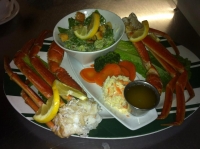 Fresh Snow Crab, caught locally along the shores of Chéticamp. Served hot with choice of side, coleslaw, vegetables and melted butter. Includes dessert (Apple Garden Cake cake contains nuts) AND tea/coffee
Local Lobster Dinner
Fresh Lobster, caught locally along the shores of Chéticamp. Served hot with choice of side, coleslaw, vegetables and melted butter. Includes dessert (Apple Garden Cake) AND tea/coffee
Chicken & Mushroom 'Au Jus' Dinner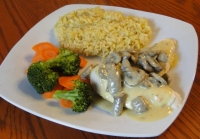 5-oz chicken breast, smothered with our signature mushroom sauce, served with vegetables and your choice of side. Includes dessert (Apple Garden Cake – cake contains nuts) AND tea/coffee
BBQ Ribs Dinner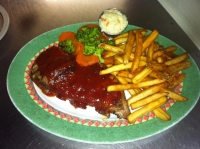 Charbroiled ribs smothered in our house BBQ sauce, served with vegetables and choice of side. Includes dessert (Apple Garden Cake cake contains nuts) AND tea/coffee Served with fries, potato of the day, rice choice of salad
Extras
Poutine
French Fries
Sautéed Mushrooms
Sautéed Onions
Veggies
Coleslaw
Bacon
Cheese
Chicken Strips
Piece of fish
Gravy
Beverages
Coffee/Tea
Bottled Water
Club Soda
Herbal Tea
Apple Cinnamon, Chamomile, Darjeeling, English Breakfast, Green Tea, Honey Lemon, Lemon, Peppermint
Tonic Water
Juice Apple, Orange, Tomato, Pineapple, Cranberry & Grapefruit
Beverages
Milk
Hot Chocolate Large cup of hot chocolatetopped with whipped creamand chocolate sauce
Pop (Free Refills)
Pepsi, Diet Pepsi, 7-up, Orange, Root Beer, Gingerale
From the Bar
Premium Shots 1 ½ oz
~Whiskey~
Jack Daniel's
Jim Beam
Chivas Regal
Johnnie Walker
Glen Breton
Crown Royal
Glenfiddish
Cognac
~ Dark Rum ~
Smuggler's Cove
~ Brandy ~
D'eaubounne
From the Bar
Beer (341ml/bottle)
Alexander Keith's, Alexander Keith's Light, Alpine, Budweiser, Budweiser Light, Coors Light, Labatt's Light, Other Suggestions Molson Canadian, Moosehead, Oland's Export, Schooner
Imported Beer (330ml/bottle)
Becks, Corona, Heineken, Stella Artois
Coolers
1 oz Cocktail
1 oz Daiquiri
1 oz Shooter
1 oz Spirit
2 oz Spirit
On Tap (12 oz Glass)
Richard's Red Draught
Alexander Keith's Red Draught
Coors Light Draught